When Is It Time to "Lean In" to Your Divorce?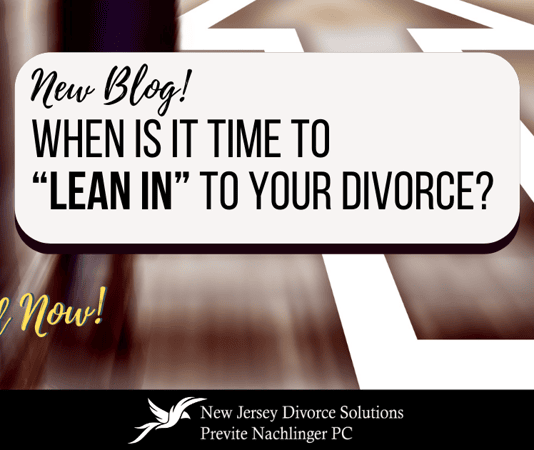 By now, you are probably familiar with Facebook's Chief Operating Officer Sheryl Sandberg's "Lean In" philosophy. You don't have to be a feminist or even a woman to learn something from this philosophy. Many of us could learn to Lean In with respect to many aspects of our lives. It is basically the proposition that when it comes time to make decisions and take action to better yourself and your life, you should grab the bull by the horns and just do it!
This can apply to a work opportunity. It can apply to getting fit. It can also apply to making the excruciating decision to get a divorce. We so often meet people in our office who have had the foresight to come see us to inquire generally about the divorce process, but sometimes they still leave hesitant and reluctant to make a decision to move forward. Sometimes they come back a week later. Sometimes they come back five years later. Sometimes not at all. However, sometimes when you don't make decisions, the decision isn't simply "on hold" as you may believe. Sometimes the decision is being made without you and you don't even realize it.
For instance, many people worry that getting a divorce will upset the children. Sometimes that is true, but you have to consider the impact staying in an unhealthy relationship can have on the children. Sometimes it can be worse than the pain of staying together. Kids are most often very aware of the dynamic between their parents. Staying together is not necessarily helping them. Of course, this is an individual decision for every family and shouldn't be taken lightly.
Sometimes you also need to be a bit selfish. The best parent a child can have is someone who is happy and healthy. If you are in a toxic relationship, it is likely you are neither. If you have come as far as looking at this website, or maybe you have even met with an attorney or two, what are you waiting for? It is difficult to take that first step. However, if you have already taken these few steps, you already know what you need to do to secure your future happiness. Nothing worth having comes easy. There will be suffering and it will not be a fun experience. However, you will come out the other side. The only way to get to the other side is to Lean In and go after what is yours.
Still not sure? It's okay. You don't have to make a life changing decision in one day. If we can be of any assistance to you in understanding this process and understanding what your life may look like on the other side, please contact us for a consultation.