THE TORTOISE AND THE HARE: GETTING TO THE FINISH LINE IN A 20 YEAR MARRIAGE MAY DEPEND WHO YOU ARE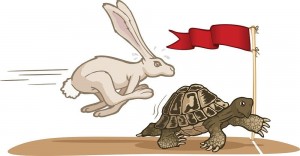 Are you approaching a 20-year marriage and considering a divorce? If you are the breadwinner, you better RUN, not walk, to the courthouse to file a complaint for divorce. If you are not the breadwinner, then you should take your time and try to get to the 20 year mark before a Complaint is filed. Here is why….
The alimony statute in New Jersey, until recently, allowed for "permanent alimony" in what is generally considered to be a "long-term marriage" (along with other factors, but the length of the marriage was a significant indicator of a permanent alimony situation). However, the new alimony statute enacted recently allows for what is referred to as "open durational alimony" (functioning much like its predecessor "permanent alimony" but with some restrictions). The only people "eligible" (or on the hook, depending how you look at it) for open durational alimony are those whose marriage has been at least 20 years. The length of the marriage to determine alimony is measured by the date of the marriage to the date that the Complaint for Divorce is filed.
We encounter situations in our office in which the supporting spouse (usually the husband, but can also be the wife) is the "breadwinner" (i.e. either fully supporting the other spouse for many years or earning significantly more than the other spouse). This is particularly important when the marriage is approaching 20 years. If it is getting close to the 20 year mark, it is extremely important that you file a Complaint to cut off the length of the marriage if you are the breadwinner so that you are not potentially on the hook for open durational alimony (the close cousin of permanent alimony). If, however, you are not the breadwinner, then you would be ill advised to rush into court and file a Complaint. On the contrary, it would be in your best interest to intentionally wait, drag it out as long as possible, until after the 20 year mark since you would then be able to request open durational alimony.
Open durational alimony is not determined solely by the length of your marriage. It is also determined by other factors too complex to explain in this limited space. It also depends on the particular circumstances of your case. For purposes of this discussion though, be forewarned that if your marriage is close to the 20 year mark, whether you are the husband or the wife, the tortoise or the hare, be careful to consult with an attorney as soon as possible if you are contemplating a divorce. It can have a tremendous impact on the alimony situation and the rest of your life.
Please contact us at 732-529-6937 for a comprehensive consultation for more information about how this affects you.