Moving Within New Jersey with Kids? Not so Fast!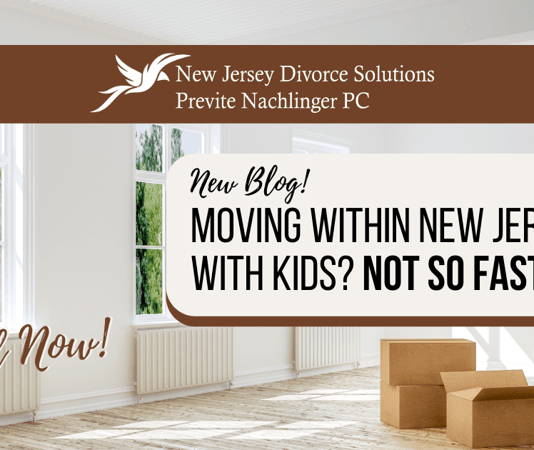 For years, there was been a different standard if you want to move out of New Jersey with your children than if you simply wanted to move within New Jersey. Naturally, this led to some interesting situations. If you wanted to move from Trenton to Morrisville, PA, you had a more difficult time in many circumstances than moving from Trenton to Toms River. Thanks to a recently published appellate division decision, A.J. v. R.J., we have one standard if you want to anywhere move with your children.
In this new case, the parties had two children. Parent A had primary residential custody of the children (), and Parent B had parenting time every other weekend from Friday to Saturday and one midweek overnight. Parent A was employed as a teacher in Elizabeth, while Parent B was employed in New York City and lived in Union. In March 2018, after Parent A had remarried and had a third child, Parent A unilaterally moved the children from Elizabeth to Mount Holly, a distance of 62.3 miles. That is when the dispute started.
The appellate court determined, after the trial judge ordered the children returned to the Elizabeth-Union area, that the standard for determining if a custodial parent can move within New Jersey is now a "best interest" standard; this is the same standard if someone wants to move to a different state. Specifically, the court found that "where a parent of primary residence seeks an intrastate relocation and the parent of alternate residence opposes it, the parent of alternate residence must convince the court that move constitutes a change in circumstances affecting the best interests of the child." Interestingly, the court did not indicate which parent has the burden of making the application to the court regarding the move, so the legal community will have to figure that out.
What does it mean for you? If a parent with custody wants to move from one area of New Jersey to another, an objection will trigger an analysis by the trial court on whether the move constitutes a change in circumstances that impact the best interest of the children. For example, moving from New Brunswick to Edison is unlikely to be a change in circumstances. However, moving from Sparta to Manalapan is likely to trigger a change in circumstances. We believe this really will come down to how the move impacts the ability of the non-custodial parent to have the same access to the children. It might be that a new parenting time schedule must be implemented. On the other hand, the move might be denied if the schedule cannot be modified in a coherent and fair way.
Bottom line, if you are moving or opposing a move, you need to consult with experienced attorneys who understand the law and what you must prove. Schedule a consultation with us and find out your rights. We will not tell you what you want to hear. We will tell you what you need to know.