LGBTQ Divorce 101 (a multi-part series) – TYPES OF LGBTQ DIVORCE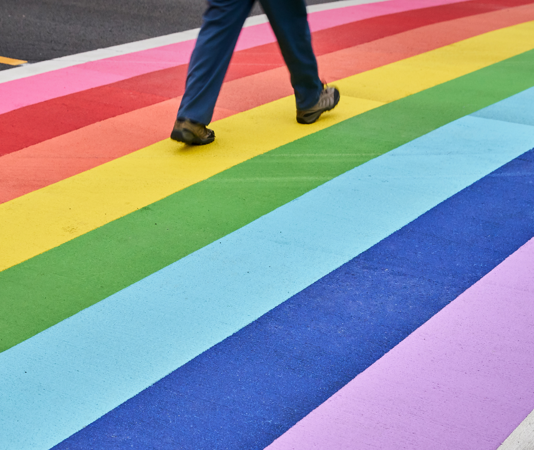 Part 1 – How Divorce impacts the LGBTQ Community
Divorce is difficult for everyone. No one gets married to get divorced. When it comes to the Lesbian, Gay, Bisexual, Transgender, and Queer (LGBTQ) community, it can be even more difficult. There are issues unique to our community that most attorneys do not understand. These issues are emotional, cultural, and legal. While anyone can learn the law, members of our community struggle to find help from people who genuinely understand their law and what they are going through.
As it is June, which is PRIDE month, I will overview the issues that members of the LGBTQ community encounter in divorce. It would be best if you found an attorney that understands all the parts of being a member of our community. As we know, language is essential when talking to us. If an attorney does not understand "us," how can they successfully advocate on our behalf to a mediator, arbitrator, or judge? In this multi-part blog series, I will take you through LGBTQ Divorce 101 and what you need to think about if you are going down this road.
TYPES OF LGBTQ DIVORCE
Most think of divorce as monolithic. When it comes to the LGBTQ community, that is certainly not the case. Each part of our community has his, her, or they's challenges. Let's start at the beginning of how divorce enters our community. There are three primary ways the community faces divorce.
LONG-TERM GAY AND LESBIAN COUPLES
When people think of LGBTQ divorce, inevitably, they will think of same-sex divorce. Interestingly, this is not the most common way divorce impacts our community, but it is how many of you will have divorce creep into your life. As we have not been able to marry for too long, divorce can be complicated. Many same-sex partners lived years without any legal protection. When states like New Jersey began to offer protections, such as domestic partnership and civil union, some couples availed themselves of these "separate but allegedly equal" statuses to solidify that which they had lived for many years.
Then, divorce was legalized across the country. This patchwork of legal and informal statuses can create a headache for even the most seasoned divorce attorney. What if you were with your current wife for ten years, then entered into a New Jersey Domestic Partnership in 2004, and then got married in 2013? Did the fact that you skipped a civil union have any legal significance? How do you take into consideration the "pre-marriage" years when dividing property or looking at support? In Part 2 of this series, we will look into these issues.
COMING OUT LATER IN LIFE SITUATIONS
Interestingly, a more common way divorce enters our community is with men, women, and non-binary individuals who realize their "traditional" opposite-sex marriage is no longer something they want to live in. Given the societal changes and the ever-increasing acceptance of LGBTQ relationships in American culture, many community members have found that playing the role of someone in an opposite-sex marriage is no longer acceptable for them. I have divorced more than fifty men and women who lived in a "traditional" marriage for decades. When one looks at the landscape in the 1980s and 1990s, it is not surprising that many in their forty's and fifty's have now decided to live their authentic lives, which usually means divorce from their husband or wife.
There is a myriad of challenges in these divorces. While they are primarily straightforward from a legal perspective, understanding emotional and cultural nuisance is of paramount importance. The other spouse can be very hurt. Sometimes it can hit them like cheating on steroids. In addition, there is actual bias in the court system when it comes to custody and children with parents who come out as LGBTQ. These cases take a natural touch in dealing with the person going through it, their spouse, the other attorney, the mediator, and the judge.
COMING OUT AS TRANSGENDER
One of the most trying types of LGBTQ divorce is where one spouse has come out as transgender. These situations are challenging for both the other spouse but also the children. Understanding the issues that the transgender community face, while applying traditional divorce procedure and law, can be quite the tap dance. The individual that is transitioning is going through enough themselves that having a stressful divorce process can blunt the joy of living that person's true self.
On the surface, these are typical divorces. But, they also have some unique challenges. I have seen situations where one spouse has come out to their spouse, and they jointly try to make it work. In other situations, it immediately leads to a divorce. You must have an attorney that helps navigate all of these challenges.
THE REAL-LIFE IMPACT OF DIVORCE ON THE LGBTQ COMMUNITY
Divorce is hard on everyone. But, members of our community often encounter a mix of ignorance, bias, and lack of creativity. Many situations do not neatly fit into the traditional family law structure. As such, the LGBTQ community often presents unfair results when the appropriate lawyers, mediators, arbitrators, and/or judges are not involved. In Part 2 of this series, we will go through the specific legal issues that members of our community face and how we try to handle them thoughtfully. Do not settle for help that does not understand you and your life.
If you are in New Jersey and need help,
John Nachlinger is a founding partner of Netsquire. He is Certified as a Matrimonial Attorney by the NJ Supreme Court and is a Qualified Divorce Mediator by the NJ Supreme Court. He is a Past Chair of the LGBT Rights Section of the NJ State Bar Association. He specializes in mediating divorce and custody disputes between members of the LGBTQ community.